Element14 CodeBug wearable technology schools competition winners announced
Element14 CodeBug wearable technology schools competition winners announced
March 15, 2016, 9:40 p.m.
With British Science Week (11th-20th March) in full swing, today (15th March) was the day for the pupils from the 10 schools taking part in the CodeBug Wearable Technology Competition to showcase their designs at Leeds Beckett University.
CodeBug, a handheld, programmable computer designed (by OpenLX in Manchester) to teach computing, was used by pupils in a wide variety of ways. Year 7-Year 9 pupils coded the versatile and easy-to-use CodeBug to create a diverse set of products from a 'winter warmer' coat with heated back and pockets, to a glove that keeps firefighters safe by warning of temperature or harmful gases.
Judging the competition entries were: Dr. Andrew Robinson, CEO of OpenLX and creator of CodeBug, Peter Birks, Sales & Marketing President (Europe) from Premier Farnell, Joy Tasker, Senior Lecturer in Engineering, and Robin Brinkworth, Senior Lecturer in Product Design (both from Leeds Beckett University).
The Judges' Choice was won by Netherwood ALC with their light-up t-shirt to encourage children aged 4-8 years to be more active. Taking inspiration from dance mat games, pupils mounted lights and buttons to the arms and legs of clothes and created a program that randomly turned the lights on, keeping score of when the corresponding button was pressed in time.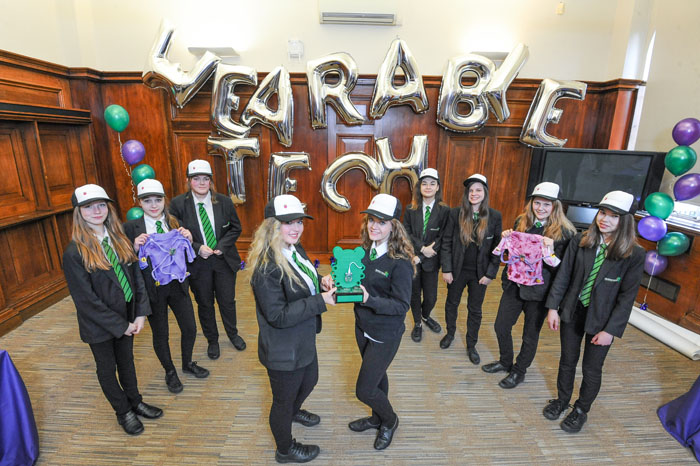 Roundhay School in Leeds picked up the People's Choice for their safety product for primary school "walking buses", which involved the pupils wearing conductive gloves and all holding onto a reflective rope to complete a circuit. If a child lets go of the rope, the circuit is broken and the CodeBug and ColourStar held by the teacher would light up to alert them.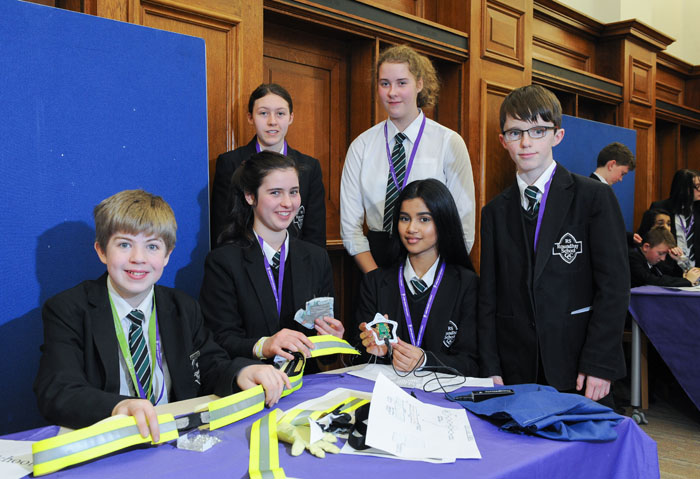 Amina Habib from Roudhay School said: "I really enjoyed the challenge. It's definitely changed my view of technology; now I'm more interested in the gadget side of things. In terms of a future career, I'm thinking of engineering and product design."

Dr. Andrew Robinson, CEO of OpenLX, commented: "Wearables are becoming increasingly popular at the moment (e.g. smart watches, fitness devices, etc.), so this is a well-timed event. We're proud that the technology we've created can be used in competitions like this to really inspire pupils to be creative with technology and encourage them onto further study...and, you never know, maybe one of them will go on to design the next big thing!

"It was brilliant to see the huge variety of different ideas that the pupils had come up with and how proud they were of their achievements; there was a real buzz in the room today. Hearing participants saying things like 'this has made me want to study computer science' was especially rewarding, as this is the reason why we created CodeBug in the first place."
Notes to Editors
The aim of the CodeBug wearables competition was to encourage schoolchildren to take an interest in coding and technology. Sponsored by Farnell element14 and managed by Leeds Ahead Partnership, the competition was launched on 9th December 2015 with ten schools taking part. OpenLX delivered a CodeBug workshop for the teachers of the participating schools and mentoring for the pupils involved was provided by Product Design and Electronic Engineering students from Leeds Beckett University.
About CodeBug
CodeBug is a cute, programmable and wearable device for teaching and learning coding and electronics, which retails for just £15 (inc. VAT). It's easy to program CodeBug using the www.codebug.org.uk website, which features colourful drag and drop coding blocks and an in-browser emulator, as well as tutorials and activities, such as scrolling your name or making a fruit keyboard. Designed to get kids into coding, CodeBug is also perfect for teachers, because it is so simple to use, and no software or drivers need to be installed. Fun, colourful add-ons (ColourStar and GlowBugs) are also available.
About OpenLX SP Ltd
Based in Oldham (Manchester), UK, OpenLX are passionate about creating high-quality, easy-to-use tech devices that make teaching and learning coding simpler and more accessible, as well as running coding workshops and generally getting people excited about computer programming. In addition to CodeBug, OpenLX are also the brains behind PiFace (the best-selling add-on for Raspberry Pi boards) and MicroStack.
About the Premier Farnell Group
Premier Farnell plc (LSE:pfl) is a global leader in high service distribution of technology products and solutions for electronic system design, production, maintenance and repair. It trades as Farnell element14 in Europe, Newark element14 in North America and element14 across Asia Pacific. With sales last year of £968m, the Group is supported by a global supply chain of more than 3,500 suppliers and an inventory profile developed to anticipate and meet its customers' needs.


About British Science Week
British Science Week (BSW) is a 10-day programme of thousands of events running throughout the whole of the UK with the aim of celebrating science, engineering, technology and maths. With no restrictions on who can organise events, the topics on which they are focused, the audience or the venue, the resulting programme is a hugely varied and eclectic mix suitable for people of all ages and abilities. BSW is coordinated by the British Science Association and is funded by BIS (Department for Business Innovation and Skills).