CodeBug in print
CodeBug in print
On

Jan. 19, 2016, 4:41 p.m.
We are so excited by the hugely positive response CodeBug has been receiving. Articles and reviews on CodeBug seem to be popping up everywhere! There have been many magazine and newspaper articles on CodeBug, below are just a few.
The January edition of Linux Format has an exclusive interview with CodeBug co-creator Dr. Andrew Robinson at OggCamp 2015. In the interview Andrew explains why CodeBug is so good at getting young people into coding and how important events like OggCamp are to the community. The article also show cases our very own CodeBug pumpkin which was present at the event in October.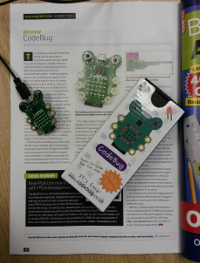 Elsewhere, the glowing review of CodeBug in Custom PC really warms our hearts. We hear about how much people love CodeBug all the time, and we never get sick of getting told it. The article goes on to detail the features of CodeBug and a brief history of our 6 legged friend.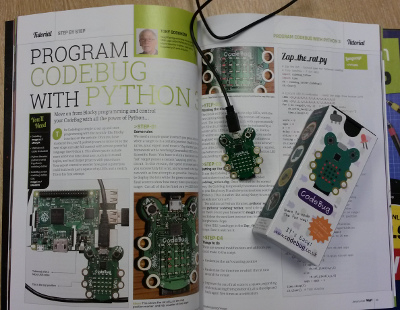 This double page spread in MagPi shows how well CodeBug works with the Raspberry Pi. In the article, Tony Goodhew shows you how to make the classic 'Zap the Rat' game in Python using CodeBug and the Pi. You can read the digital copy of MagPi here (page 50).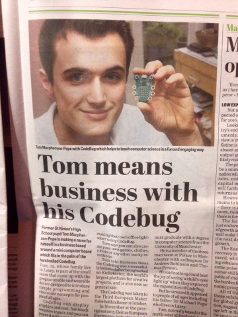 CodeBug has been making a huge impact in bedrooms and classrooms across the world, and our home towns are no exceptions. My local paper from the Isle of Man features an article about CodeBug where I explain why we love developing CodeBug and I highlight a few favourite projects including the GlowBug lightsaber we made for the release of Star Wars.
Please contact us at @_codebug on Twitter or on our contact page if you are writing an article about CodeBug and need more information.